helly larson – dreams of me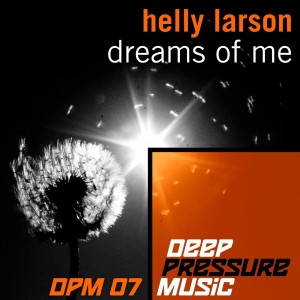 incl. remixes by babak shayan and miss disk . . .
release: 05/2013 . . .
[dpm07]
written and produced by helly larson
additional producer: babak shayan, miss disk
artwork by jay eff
format: digi
© deep pressure music
some feedback
The Messenger: Great release ! Miss Disk remix is energetic bomb and it works fine. Support!
Deep Spelle: Great stuff ! All mixes are nice ! 🙂
Alton Miller: nice tracks, thanks!!
Di Costa: Another OUTSTANDING release on Deep Pressure Music. All the artists involved in it have done a wonderful job. The original mix is my favorite – a true deep house banger! Miss Disk delivers quality as well. Babak of course is at his finest once again. 10/10! Full support!
Cooccer: great work mate 🙂
Zuat-zu: Really cool release! Diggin' three mixes.
Rory Cochrane: Dope release…really hard to pick a favourite right now, love the sound of all 3 mixes here, will play for sure in my shows, full support! Thanks for sending! 😉
Deephope: Amazing release, great remixes!cool original. 5/5 thanks so much
Robert Owens: great track
Loz Goddard: Hard to choose a favourite, like them all equally! Think the original just about scrapes through as the best mix though. Should get some use from this release, thanks for sending.
related mixes